Fairs, Festivals, Breweries, Corporate/Private Parties, Catering, Lunch Outings and Fun-Raisers Too!
"AS GOOD AS IT GETS"
Family Owned & Operated - Homemade - Local Ingredients - Most Orders Filled in Less than Five Minutes
"We took Grandma's classic polish recipes, added a dash of American comfort, a pinch of creativity, and fired up the grill…"
June 4: Main Street Festival, Stratford, CT
June 5: RiverFest, Croton-on-Hudson, NY
June 10-12: Goshen Stampede, Goshen, CT
June 18-19: Norwalk Arts Festival, Norwalk, CT
SCHEDULE AN EVENT:
EVENTS@COLOSSALKIELBASA.COM 475-309-0056
The Colossal Kielbasa Team
Joe S. - Brian P. - Rob S.
Skylar, James, Mike, Char, Rose, Dani, Jess, Ray, David, Bob, Joe, Yvonne, Tammy, Paul, Jill, Gina & Amanda
***
PRESS:
LIKE US ON FACEBOOK***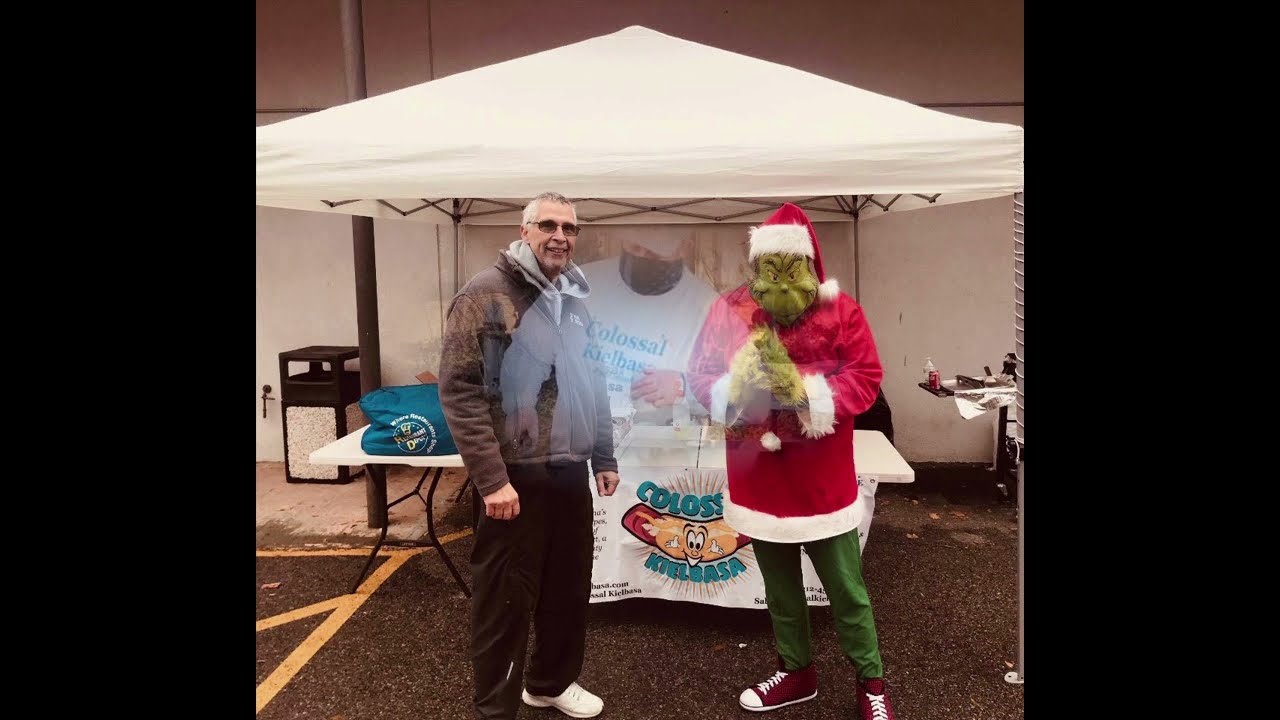 The Colossal Kielbasa Food Stand began as a grassroots fundraising initiative for St. Joseph's Church in
Stratford, CT. The stand was developed and managed by myself and two other members of the church's
Men's Society, Rob Shandrowski and Brian Putorek.
We set up a tent and grill in front of the church once a month (May through October) starting in 2015.
Nearly 3000 customers purchased food from our stand over the next five years. All the proceeds went to local charitable organizations.
As the popularity of the stand grew, the three of us decided to branch out and establish the Colossal Kielbasa Food Stand as a Limited Liability Company in 2021. Over the past nine months, we have had the
pleasure of working with thirty festivals across Connecticut and New York. The response from our customers and event organizers has been overwhelming. It has made all the hard work worthwhile.
Through our partnership with St. Joseph's Church (Out Reach Initiative), we remain steadfast in our commitment to making a difference in our community through charitable donations.
Our team has over one hundred years of combined experience in marketing, food distribution, graphic
design, and customer service. We believe our creative brand and menu would be a perfect addition to your next event.
Joe Shandrowski
"Tried for the first time today at the Shakespeare Market. I am very particular about stuffed cabbage and this tasted just the way my mom & dad and various aunts used to make it! DELICIOUS! And the pierogi with onion sauce..oh my goodness... I'm sorry I didn't get more,"
"Enjoyed your food for the first time at the Glastonbury art show. Not a menu I typically run to - but wanted something different. I hope you're coming back to the area everything was flavorful, not fatty or salty. Even my 7 yr old Granddaughter loved your kid's meal! Thank you please come back"
had"They had lots of choices. The service was fast and friendly. The food was delicious. I had the lunch special which had stuffed cabbage, pierogies, and kielbasa. I saw them at the Shakespeare Theater grounds today. Everyone should try some!"